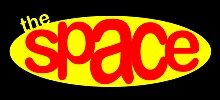 A unique regular Brighton based entertainment and arts event with exclusive special guest interviews
IN ASSOCIATION WITH OUR SPONSOR, BRIGHTON FILM SCHOOL


CÔTE BRASSERIE - BRIGHTON
Based at Church Street, Côte Brighton is a modern interpretation of the many famous bistros of Paris. Inspired by new trends, they are dedicated to authentic classic brasserie dishes with a modern twist, using high quality produce at great prices. Côte is open early every day for breakfast, through to lunch and dinner. Its atmosphere is informal, friendly and highly welcoming.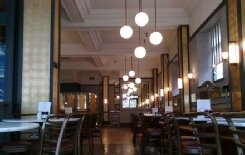 A live music venue with a cabaret stage downstairs and a skylit restaurant/bar upstairs.
The venue is one of Brighton's main live music venues. Amongst the people who have performed here in the last few years are Amy Winehouse, The Kooks, Ben Howard, Rizzle Kicks, Jesca Hoop, Chris Difford, Newton Faulkner, Don Letts and some jazz greats from Herbie Flowers and Larry Adler to Liane Carroll.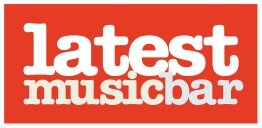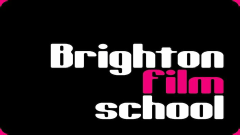 With fantastic facilities, dedicated industry lecturers and speakers and a central location in a filmmakers' city such as Brighton, their mission is to deliver practical courses and train the next generation of talented filmmakers wishing to enter the British film industry. www.brightonfilmschool.co.uk
Our October event welcomes…
Actor Julian Glover and Artist Stanley Donwood
Held on Wednesday October 3rd at the Latest Music Bar, 14-17 Manchester Street, Brighton
Doors 7:30pm / starts at 8:00pm / £16 / hosted by Wayne Imms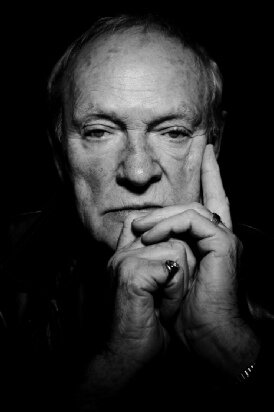 Julian Glover
Julian Glover CBE is an actor familiar to many, at least partly due to his roles in various popular films and television shows. They include the first Star Wars sequel, an Indiana Jones epic, a James Bond adventure and a phenomenally successful medieval fantasy TV series. The Olivier Award-winning veteran actor has appeared in a vast amount of productions. He is most known for playing villainous characters, such as in INDIANA JONES AND THE LAST CRUSADE, THE EMPIRE STRIKES BACK, as General Veers, and FOR YOUR EYES ONLY, as well as the classic Tom Baker DOCTOR WHO story CITY OF DEATH. In recent years, he appeared in GAME OF THRONES as Grand Maester Pycelle. Julian also appeared in the acclaimed Richard Attenborough film CRY FREEDOM.

This events raffle prizes include…
EVITA at Theatre Royal Brighton: Thanks to its lyricist, Tim Rice, a pair of tickets to Bill Kenwright's production of the legendary musical, which was first performed 40 years ago. It runs at Theatre Royal Brighton from October 30th to November 3rd.
TOM ODELL at Brighton Centre: Thanks to the highly popular singer/songwriter, a pair of tickets to his performance on Thursday October 25th. This is part of his world tour to promote the new album, JUBILEE ROAD, released on October 12th. www.tomodell.com
BARBARELLA, NIGHT OF THE LIVING DEAD & OLIVER!: Marking 50 years since the release of these classic films, DVD copies will be won.
MADONNA: LIKE AN ICON: Lucy O'Brien's recently republished and updated biography of the hugely successful queen of pop. Two copies to be won – thanks to Penguin Books. www.penguin.co.uk
THREADS: Thanks to Simply Media, a DVD of a new re-mastered edition of the acclaimed BBC drama from 1984. It focuses on the effects of a nuclear attack on England and the eventual impact upon civilisation. The 2-disc DVD includes many extra features. www.simplymedia.tv
CAITLIN MORAN'S HOW TO BE FAMOUS: A copy of the bestselling author's latest novel. Set in the nineties, during the Britpop explosion, it focuses on a young female journalist involved with a successful rock star. Thanks to Ebury Press / Penguin Books. www.penguin.co.uk
BRETT ANDERSON'S COAL BLACK MORNINGS: Thanks to Little, Brown Book Group, a copy of the acclaimed memoir by the front-man and songwriter of the band Suede. www.littlebrown.co.uk
Follow us on Facebook for any last minute additional raffle prizes.


ED MOORE
Special thanks to The Space official photographer, Ed Moore.

BOM-BANE'S
Bom-Bane's is a licensed cafe-restaurant run by musicians Jane Bom-Bane & Nick Pynn, situated in the Brighton (not the Hove) George St. It features delicious Belgian & other European dishes, along with the Aesop's Tables, Tablerone, TurnTable, Twenty-Seven Chimes Table, Uns-Table & Water Table.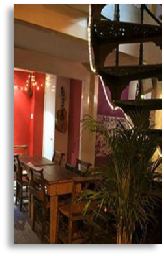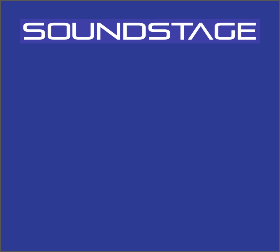 SOUNDSTAGE EVENTS
If you like Space events you will also enjoy Creative Director Wayne Imms, Soundstage presentations in London. Each month special guests are interviewed about their popular work and achievements, with a touch of inspiration and advice for the creative community and beyond.
"I cannot recommend an appearance at The Space highly enough. Nothing was too much trouble, from the delightful dinner beforehand to my fellow guest and the wonderfully informal and fun interview that followed. A lovely evening and I'd be back like a shot."
WRITER & ACTOR
MARK GATISS
(Sherlock, The League of Gentlemen, Doctor Who)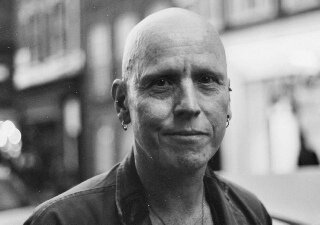 Stanley Donwood
Stanley Donwood is a highly renowned artist, perhaps best known for creating artwork for Radiohead, including album covers, such as OK COMPUTER. He and Thom Yorke met as art students and have collaborated for nearly 25 years, since Radiohead's single My Iron Lung. Stanley's work also includes a wide range of large screenprints, covers for JG Ballard novels, artwork for the Glastonbury Festival and art installations in Bristol, London, the Netherlands and Sydney. Through his striking work, he partly explores and questions society, sexuality, war, conformity and politics. He has written several books of short stories. He maintains a highly informative website, which includes an insightful blog. www.slowlydownward.com www.twitter.com/stanleydonwood
Thanks to Whistleblower Gallery, based in Hove, for their assistance with Stanley Donwood www.whistleblowergallery.co.uk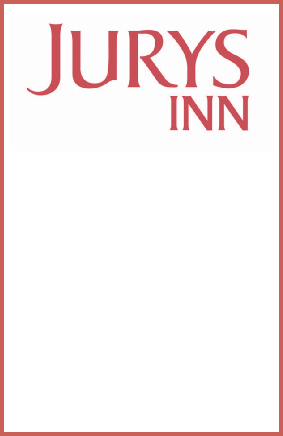 There is a wealth of Jurys Inn hotels in central locations. Each one offers great value rates with warm and excellent friendly service. There are two Brighton-based hotels; in the City Centre, at Stroudley Road, and Brighton Waterfront at King's Road. There are many spacious and well-lit rooms which are designed around the guests' comfort. We're grateful for their support.