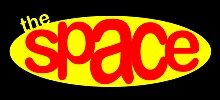 A unique regular Brighton based entertainment and arts event with exclusive special guest interviews

A live music venue with a cabaret stage downstairs and a skylit restaurant/bar upstairs.
The venue is one of Brighton's main live music venues. Amongst the people who have performed here in the last few years are Amy Winehouse, The Kooks, Ben Howard, Rizzle Kicks, Jesca Hoop, Chris Difford, Newton Faulkner, Don Letts and some jazz greats from Herbie Flowers and Larry Adler to Liane Carroll.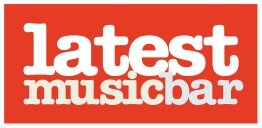 CÔTE BRASSERIE - BRIGHTON
Based at Church Street, Côte Brighton is a modern interpretation of the many famous bistros of Paris. Inspired by new trends, they are dedicated to authentic classic brasserie dishes with a modern twist, using high quality produce at great prices. Côte is open early every day for breakfast, through to lunch and dinner. Its atmosphere is informal, friendly and highly welcoming.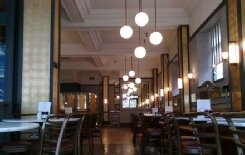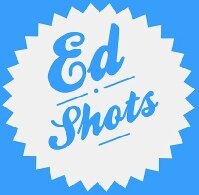 ED MOORE
Special thanks to
The Space official
Photographer,
Ed Moore.
Our August edition of Space features…
INTERVIEWS AND AUDIENCE Q&As WITH MUSICIAN & DJ NORMAN COOK AND TV COMEDY PRODUCER JON PLOWMAN
Held on Thursday August 15th at the Latest Music Bar, 14-17 Manchester Street, Brighton
Doors 7:10pm / starts at 7:45pm (times may change slightly) / £17 / hosted by Wayne Imms
NORMAN COOK
Norman Cook, also known as Fatboy Slim, is a musician, DJ and producer. His career took off as the bassist in his friend Paul Heaton's band, The Housemartins. Hits included Happy Hour and Caravan of Love. After their split, he moved to Brighton, pursuing a love of dance music. Norman's first single, released in the summer of 1989, with MC Wildski, was Won't Talk About It / Blame it on the Bassline. Beats International swiftly followed and with this group they had the number one single Dub Be Good to Me. With Freak Power, came the hit Turn On, Tune In, Cop Out. The mid nineties saw him involved, partly as a regular DJ, with The Big Beat Boutique, a highly popular club night, based on the big beat genre. As Fatboy Slim, he became one of the world's biggest dance music acts, largely due to the 1998 album, You've Come a Long Way, Baby. Its tracks included Right Here, Right Now, Praise You and The Rockafeller Skank. Norman's music videos were innovative and award-winning. His later work included collaborations with David Byrne, Rizzle Kicks, Macy Gray and Iggy Pop. As well as making music, he continues to DJ at shows, festivals and club worldwide. www.fatboyslim.net
JON PLOWMAN
Jon Plowman has been a major figure in British television comedy for over thirty years. He was an executive producer on a wealth of popular and acclaimed BBC sitcoms and sketch shows. In 1994, he became their Head of Comedy Entertainment. Jon played a key part in the careers of figures such as Stephen Fry, Ricky Gervais, Dawn French, Jennifer Saunders and many others. Among the most successful shows that he commissioned and / or produced were The Office and French and Saunders, Absolutely Fabulous, The Thick of It, The Vicar of Dibley, Extras, W1A, Inside No. 9 and The League of Gentlemen. In 2007, he received the Royal Television Society's Outstanding Contribution Award and has been BAFTA-nominated ten times. 2018 saw the publication of Jon's highly insightful and entertaining autobiography, How to Produce Comedy Bronze. We expect him to be an amusing and animated guest.
This events raffle prizes include…
FATBOY SLIM Something rather special related to this guest of ours at this event.
MIXMAG A year's subscription to the highly popular monthly dance music and clubbing magazine. It includes features, interviews, reviews and much more. Check out its website at www.mixmag.net
FRANK SKINNER, SHOWBIZ Thanks to Avalon Management, a pair of tickets to the renowned comedian's new tour at Brighton's Theatre Royal on Sunday October 13th. www.frankskinnerlive.com
JON PLOWMAN'S HOW TO PRODUCE COMEDY BRONZE Thanks to Blink Publishing, a copy of our guest Jon Plowman's highly insightful book. This charts his long career in television, of course largely his work as a leading comedy producer. www.blinkpublishing.co.uk
WES FEST Thanks to The Brighton Film Party Society, tickets to this three-day Wes Anderson festival in Brighton, from Friday August 23rd to the 25th. Celebrating the film director's work, it includes screenings, a Q&A session, parties and live music. www.wesfest.co.uk
STEVE LAMACQ'S GOING DEAF FOR A LIVING BK Thanks to Omnibus Press, a copy of the BBC 6 Music presenter's autobiography. It traces his career, from the NME to Radio 1's Evening Session and more. www.omnibuspress.com
BRITPOP CINEMA Thanks to Intellect Books, this looks at some of the great British films that were released around the era of Britpop and beyond. This superb book includes interviews with key figures such as Simon Pegg, Irvine Welsh and Edgar Wright. More into at www.intellectbooks.com/britpop-cinema
MOONRAKER PRINT Marking 40 years since its release, a print of a poster for Moonraker. The James Bond film was released in the summer of 1979.
Follow us on Facebook for any last minute additional raffle prizes.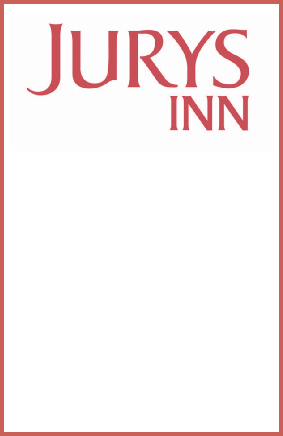 There is a wealth of Jurys Inn hotels in central locations. Each one offers great value rates with warm and excellent friendly service. There are two Brighton-based hotels; in the City Centre, at Stroudley Road, and Brighton Waterfront at King's Road. There are many spacious and well-lit rooms which are designed around the guests' comfort. We're grateful for their support.