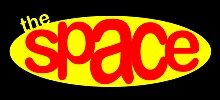 A unique regular Brighton based entertainment and arts event with exclusive special guest interviews
IN ASSOCIATION WITH OUR SPONSOR, BRIGHTON FILM SCHOOL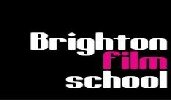 Brighton Film School offers an extensive range of flexible and competitively priced courses, leading to nationally recognised qualifications. The Film School has been running successful courses for over ten years and the new owners, Brighton Film Productions, are building upon that foundation by offering a wider selection of courses in a wide range of aspects within film production, such as screenwriting and acting for camera.


Brighton's professional theatre with an all-day cafe, meeting space and rehearsal studio.
Housed in a rejuvenated church building at the heart of Brighton's most exciting civic regeneration area 88 London Road is a venue, hub and resource centre for those working in, and for fans of, the theatre and movie industries.

BOM-BANE'S
Bom-Bane's is a licensed cafe-restaurant run by musicians Jane Bom-Bane & Nick Pynn, situated in the Brighton (not the Hove) George St. It features delicious Belgian & other European dishes, along with the Aesop's Tables, Tablerone, TurnTable, Twenty-Seven Chimes Table, Uns-Table & Water Table.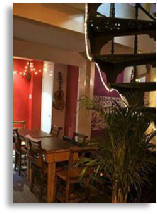 CÔTE BRASSERIE - BRIGHTON
Based at Church Street, Côte Brighton is a modern interpretation of the many famous bistros of Paris. Inspired by new trends, they are dedicated to authentic classic brasserie dishes with a modern twist, using high quality produce at great prices. Côte is open early every day for breakfast, through to lunch and dinner. Its atmosphere is informal, friendly and highly welcoming.
Partners The Space very much appreciates the valuable support from these businesses: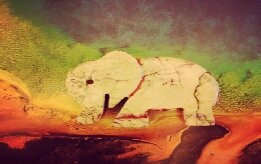 KIRSTIE HOWELL
Kirstie of Elephant Sounds specialises in Sound Design for films, covering all aspects of sound from pre- to post-production, including location recording as well as sound Mixing and editing. She is a trained sound designer and an experienced editor who has worked on several feature films, shorts, web commercials, documentaries and promos. She is based in Brighton and London, but is available anywhere in the UK and worldwide. www.elephantsounds.co.uk


ED MOORE
Special thanks to The Space official photographer, Ed Moore.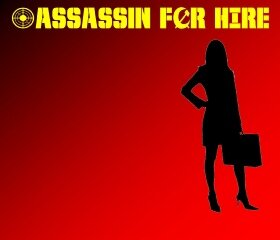 The Space website is brought to you via The Assassin, utilising innovative guerrilla methods for creating effective high quality multimedia at ridiculously affordable prices.
Whether it be audio, visual, design or the web, let The Assassin take care of it for you.
Paul Franklin
Paul Franklin is the visual effects supervisor for Christopher Nolan's spectacular space epic, Interstellar. He also supervised the visual effects for the director's The Dark Knight trilogy and Inception. Through the company he cofounded, the highly respected Double Negative, Paul has also worked on Harry Potter and the Order of the Phoenix and the James Bond film Die Another Day. Double Negative is also responsible for creating visual effects for Spectre, Batman vs. Superman: Dawn of Justice and Mission Impossible: Rogue Nation, among a wealth of other blockbusters. He has won two Oscars, for Interstellar and Inception.
Our next event features…
Musical theatre & film lyricist Tim Rice and Oscar-winning visual effects supervisor Paul Franklin
on Thursday September 29th, hosted by Lisa Holloway at 88 London Road, Brighton.
Doors 7pm, starts 7.45pm.
Tim Rice
Tim Rice is one of the world's most successful and respected lyricists for musical theatre. With Andrew Lloyd Webber, he wrote the highly popular Evita, Jesus Christ Superstar and Joseph and the Amazing Technicolor Dreamcoat. His work for Disney includes co-writing lyrics for Aladdin and The Lion King; for the latter, he worked with Elton John, who wrote the music. He wrote new songs for the Beauty and the Beast stage show. With ABBA's Björn Ulvaeus and Benny Anderson, Tim wrote the musical Chess. He wrote additional songs for 2011's revival of The Wizard of Oz and his most recent musical is From Here to Eternity. Other work includes All Time High, the theme song of the James Bond film Octopussy.

This events raffle prizes…
Tim Rice-related albums: CDs of Evita, Jesus Christ Superstar, Joseph and the Amazing Technicolor Dreamcoat, Aladdin, The Lion King, Chess and From Here to Eternity.
Tim Rice – Oh, What a Circus: The lyricist's highly engaging and insightful autobiography.
Musicals – The Definitive Illustrated Story: This book tells the history of musicals; from its earliest origins to the record-breaking West End musicals and Broadway shows of today. www.dk.com
DVDs of films with effects by Paul Franklin: including The Dark Knight trilogy, Interstellar and Inception.
A twelve-month Picturehouse Cinema membership: This includes free tickets, discounts, priority booking, access to exclusive previews and special events. www.picturehouses.com
ABC at the Brighton Dome: A pair of tickets to see the group perform their classic album The Lexicon of Love and their greatest hits with the Southbank Sinfonia with the renowned conductor Anne Dudley. www.abcmartinfry.com
Star Trek Costumes: This large book covers the unique costumes from the TV and film series. It has interviews with costume designers and many photos. www.titanbooks.com
Some Kind of Hero: The Remarkable Story of the James Bond Films: In over 700 pages, this book tells the remarkable history of the spy series, from its origins right through to the present day, from new interviews with the cast and crew. www.thehistorypress.co.uk
Woody Allen Film by Film: This book by film critic Jason Solomons explores each of the director's films and features a new interview with him. www.carltonbooks.co.uk
Unfaithful Music & Disappearing Ink by Elvis Costello: The renowned singer/songwriter's huge, interesting and revealing autobiography. www.penguin.co.uk
Boys in the Trees: A Memoir by Carly Simon: The popular singer/songwriter's acclaimed autobiography, tracing her successes, sadness and more in her interesting life and career. www.littlebrown.co.uk
Follow us on Facebook for any last minute additional raffle prizes.